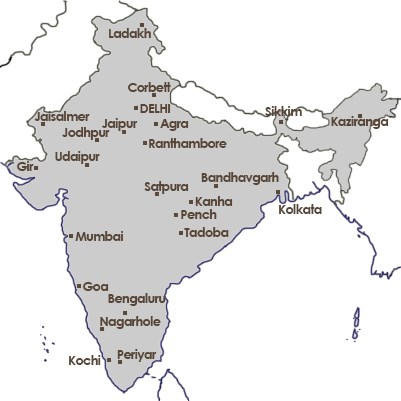 For wildlife enthusiasts an encounter with one of the world's most endangered large mammals and the world's largest cat, the tiger, is an unforgettable experience and it should be on your safari holiday list as sustainable tourism may yet save this magnificent animal.
India is a large land of dramatic contrasts and wildlife refuges and reserves are spread across the entire sub-continent. Today the logistics of travel in India are much better than ever before and so safari holidays in India are much more inviting, visiting a range of magnificent national parks. Now you can also combine a good tiger safari with visits to some of the cultural highlights of the country, for instance the Taj Mahal and the cities of Jaipur, Jodhpur and Udaipur in Rajasthan. We are happy to show you this side of an Indian holiday too. Equally, adventure treks in the Himalayas or relaxing on the backwaters or beaches of Kerala can also be combined with an Indian tiger safari to give a more diverse holiday. Family holidays in India are also becoming increasingly popular and younger ones are welcomed into the tiger reserves.
To track tigers through the forests on elephant back, or to sit quietly with them on a game drive is a thrilling experience but where are the best places to see them in India and what about the other wildlife? Without doubt the one area rich in tigers and tiger reserves is the state of Madhya Pradesh in central India. Easily reached by internal flights from international gateways such as Delhi and Mumbai, the national parks of Kanha, Bandhavgarh and Pench offer tremendous tiger safari experiences between the months of October and June each year.
Kanha is a large national park covering the Maikal hills and a tiger reserve of varied landscapes, much of it little visited by tourists. It is a beautiful park to travel through. Originally created as a reserve to protect barasingha, or swamp deer, it is home to many tigers, leopard, wild dogs, sloth bear, gaur or Indian bison and a vast array of bird life. Elephant back safaris to see tigers are possible here as well as game drives.
Bandhavgarh is smaller yet with much character as meadows and forests are interspersed with dramatic cliffs. Once home to the famous white tigers of Rewa, tigers are regularly seen here as it has the highest density of tigers for any park in India. Elephant back and jeep safaris are possible in Bandhavgarh. Sambar and chital are common and wolves can also be seen on occasions.
Pench is an excellent addition to your India tiger safari. It is a lovely small tiger reserve and was a source for Kipling's 'Jungle Book'; with many rounded hills and twisting tracks it lies next to a river so has a good supply of water. Consequently there is a large prey population and the tiger population here is healthy. Therefore, Pench has good opportunities for seeing tigers as well as leopards and a variety of other wildlife including gaur and wild boar.
Any good wildlife safari in India would include the above three tiger reserves but there are quieter parks nearby too. Satpura has an excellent lodge with great emphasis on conservation and sustainable tourism and here wildlife walks are possible with expert local guides as well as boat trips and more traditional game drives in search of wildlife. Satpura is a highly recommended addition to your India tiger safari. Tadoba is likely to provide wildlife encounters off the beaten track.
Corbett National Park in the Himalayan foothills to the north of Delhi is another good location for tigers that wildlife enthusiasts must consider visiting. This quiet tiger haven is a stunning park of dense teak forests and grassland meadows. It is a good reserve for tracking of tigers and wild elephants may be encountered too. Accommodation as with most parks is outside the park boundary but here you can also stay in simple accommodation inside the park at Dhikala to set out on elephant back tracking tigers in the early mornings. Bird watching is popular here too with over 600 species recorded.
Ranthambore in Rajasthan is a popular destination, often combined with the cultural highlights of this area of India. Early booking will ensure a jeep to enhance your tiger safari experience. It is a scenic park and the temples can be visited. Tigers are regularly encountered here although there is often pressure from the many vehicles in the park.
Further afield your wildlife holiday in India might also include visiting Gujarat in the west to see Asiatic lions in the grasslands and forests of Sasan Gir, their last stronghold. In the east, Assam is home to the one-horned rhinoceros which inhabits the marshes and tall grasses of Kaziranga National Park, also an excellent location for bird watching and a complete contrast to the jungles of central India. In the south, Bandipur and adjacent Nagarhole National Parks have leopards and wild elephants and these parks allow for the combination of a wildlife holiday with visits to the fascinating city of Mysore, the hill station of Ooty and the backwaters and beaches of Kerala although the latter can be reached from Kanha, Pench and Bandhavgarh tiger reserves too with flights via Mumbai.

 Overall, it was a very successful holiday and the standard of the accommodation was good and all the people I came into contact with were very helpful and friendly and there was absolutelty no problem with being a lady on my own.
Ms. K. - Berks.