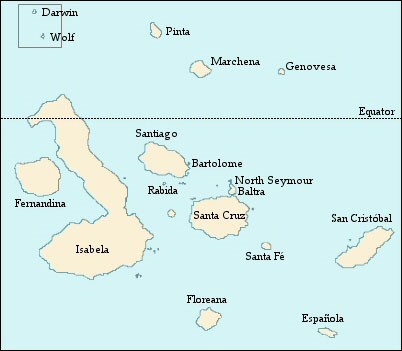 The Galapagos Islands enabled Charles Darwin to formulate the 'Origin of Species' and as a consequence, Ecuador is firmly on the world natural history map. So what can you expect from Galapagos holidays? That really depends on how long you have to spend in Ecuador and the style of holiday you are looking for. For example, if you do not like the idea of cruises it is possible to spend a few days in a hotel on Santa Cruz or Isabela and go on day trips to see some of the local wildlife.
However, most UK and European visitors cruise the Galapagos Islands and there is a wide choice in yachts from small motor cruisers to larger ships and they are rated from tourist class to luxury in the standard. Each will have at least one professional naturalist guide on board. As for our the Arctic cruises, we deliberately do not tend to recommend the larger vessels but prefer small group sizes and providing you with high-quality experiences, more sustainable tourism and better protection of the fragile ecosystems of the Galapagos Islands. It is true that landing sites in the Galapagos Islands for tourists are restricted and that the tourist boats are on strict routing itineraries governed by the National Park authorities. This does not detract from the enjoyment of the islands rather it enhances your experience of the natural habitats and amazing wildlife found in the islands as they are not over-run with other tourists when you visit.
Most importantly if you are a keen wildlife enthusiast or a wildlife photographer then we should select your Galapagos cruise based both on your budget and the route of particular boats so that you can visit the best wildlife locations among the islands. Certain species are resident only on some islands and sometimes only during specific seasons. If your boat's route does not include a particular island then you can be left disappointed. If you wish to go diving in the Galapagos you should be aware that only certain boats can operate as dive boats in the islands. Remember too that small boats, typically carrying 8 - 16 travellers do get booked up well in advance.
Our specific wildlife knowledge and the fact that we have chartered whole motor yachts for Galapagos cruises with world-famous professional wildlife photographer, Andy Rouse and negotiated our own detailed itineraries, means that we know exactly where and when you should go for Galapagos holidays. It is always best to call us to discuss your tailor-made Galapagos cruises or contact us here.
As for the wildlife, it is certainly is incredible and unafraid of humans. It is possible to encounter terrestrial giant tortoises and land iguanas, numerous nesting bird species including boobies and waved albatross, marine iguanas, sally lightfoot crabs, sea lions, Galapagos fur seals, penguins, flightless cormorants and many other species. The underwater experience around the Galapagos Islands is a totally underrated experience on Galapagos cruises and if you can swim and snorkel or dive a fantastic experience awaits. You may see shoals of rays glide effortlessly below you, turtles you can swim beside or watch grazing on seaweed, sea lions to play with, sharks, starfish of incredible colours and thousands of small fish that are often fed for penguins or other fish.
T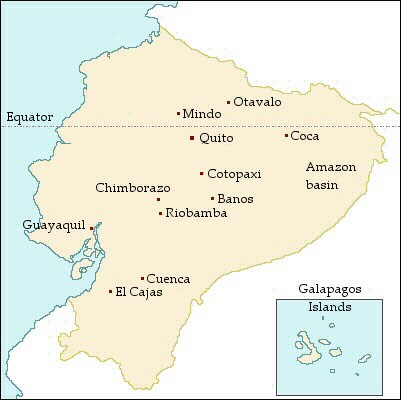 he mainland is scenically beautiful and an Ecuador tour can see you travelling from a tropical coast up through cloud forests of the Andes the p áramo and higher still to snow-capped volcanoes and then down into the rainforests of the Amazon basin where primate species and colourful macaws are often a highlight. Indeed a visit to the rainforests of the Amazon basin in combination with Galapagos cruises makes a great wildlife itinerary and if you have time we would highly recommend a stay at a cloud forest lodge, particularly if you enjoy bird watching. Here you may see many hummingbird species, toucans and with luck the Andean cock-of-the-rock. The Amazon rainforest is easily reached by a short flight from the capital, Quito, usually followed by a boat journey downstream and the Andean cloud forest can be reached within a couple of hours drive from Quito.
Above all, for the naturalist that can spare 2 weeks or more in Ecuador, it is the incredible biodiversity generated by the geography of this small country that makes Ecuador holidays so enjoyable. Your choice of accommodation is equally diverse from old haciendas built on Inca foundations to new rainforest lodges and in the cities some wonderfully restored Spanish colonial buildings.