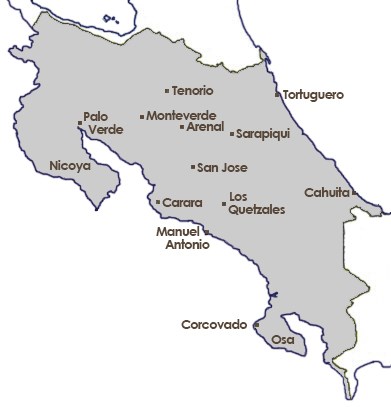 Costa Rica is a peaceful and friendly country where the local people, known to themselves as Ticos, are all too happy to show visitors their wealth of nature. With over 25% of the country protected as national parks or private reserves, it is no wonder this Central American country is popular with those who enjoy holidays in nature and the outdoors.
A backbone of high mountains and volcanoes passes through Costa Rica, many are covered in the rainforest or cloud forest which greatly increases the incredible biodiversity across a range of altitudes. These hills and mountains provide good walks, treks and mountain bike trails whilst the rivers flowing from them give some exhilarating white water rafting. Combine this with either Caribbean or Pacific beaches you have a perfect holiday destination in the tropics.
More importantly, Costa Rica is a small country that is easy to travel in and has a wide choice of accommodation for all budgets. Consequently, Costa Rica holidays have a lot to offer all ages from honeymoons combining adventures and relaxation, to family holidays with a mix of child-friendly activities or couples looking for a more sedate holiday enjoying nature.
Many of the holidays in Costa Rica that we design explore the more popular locations including the backwater canals and turtle beaches of Tortuguero, the active volcanoes such as Arenal, as well as the cloud forests of Monteverde and the Pacific beaches of either centrally located Manuel Antonio, or Tamarindo in the northern and arider Guanacaste province.
However, we like to be inventive and create outstanding holidays so for those choosing a more genuine Costa Rica wildlife holidays we know many places that will provide wonderful experiences off the beaten track where you can encounter humpback whales and dolphins, turtles, sloths, scarlet macaws, toucans and possibly tapir and jaguar. Our Costa Rica bird watching holidays are also increasingly popular and we can provide your own local well-informed guide, passionate about their birding, for all or part of any neotropical bird watching holiday.
Finally, looking through our ideas for holidays here you will notice that it is easy to cross the border to the stunning archipelago of Bocas del Toro in Panama. With its own abundance of different wildlife and laid back Caribbean atmosphere, this is a great addition to your Costa Rica holidays and is often best enjoyed at the end of your travels.
We look forward to designing your Costa Rica holidays.