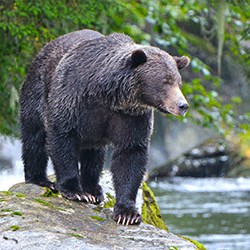 In this episode of the Wildlife & Wilderness Travel & Safaris show, the world's first and only podcast on wildlife safaris worldwide and sustainable tourism, we are putting the pod in podcast.
The first sounds you hear are from killer whales, orcas, off the west coast of Canada. In fact, what is very cool is that from just that short clip they were identified by Megan at Orca Lab as members of the northern resident A5 pod in the Broughton Archipelago off Vancouver Island.
And that group of islands is where we take you in this episode, to explore Farewell Harbour Lodge and the wildlife of the Great Bear Rainforest.
In this episode I'm delighted to be talking with Tim McGrady. Tim has paddled kayaks around the islands and fjords of the Pacific West Coast of Canada for many years and also worked at a number of wildlife-watching lodges and has a great knowledge of bears, whales and the nature of the region. Today he is part owner, manager and guide at Farewell Harbour Lodge.
Tim talks about how the lodge came about by combining the old Farewell Harbour with Bones Bay Lodge; the activities possible from the lodge and the terrific biodiversity of wildlife to be found in this wild land. How bear watching is different and the close proximity they achieve to the humpback whales, orcas and dolphins that pass through these islands. We discuss conservation, scientific research including that by nearby Orca Lab and also about the First Nations peoples of the region. Heli-hiking and green initiatives are mentioned and of course we look to the future to the protection and importance of this reserve in Canada's British Columbia.
Contact us at: podcasts(at)wildlifewilderness.com
Review our podcasts at Apple Podcasts or on Podchaser: