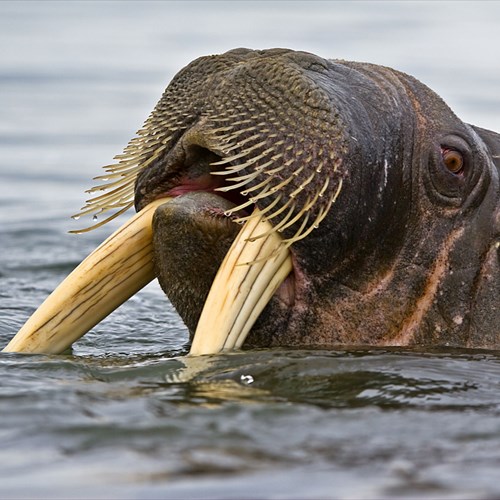 Podcast guide Dr. Steve Banner chats with professional wildlife photographer, Andy Rouse. With 20 years of experience of travelling to Svalbard in the high Arctic Andy has an incredible sense for the importance of this archipelago, not just for the wildlife but for our own connection with nature.
We talk about the well-being that this incredible frontier offers, about polar bears of course, but also about the other wildlife including walrus and the incredible birds found breeding here during the short Arctic summer. Landscapes feature too as this is a land of mountains, glaciers, rock, ice and frozen ocean all lit by the incredible light that lasts for days on end during the summer months when the sun does not set.
Andy recalls memorable of polar bear encounters and their effect on clients. We talk climate change and as well as receding glaciers, Andy has seen a change in the number of polar bears you might expect to see. However, with the best team of Arctic guides for cruises around these islands there are still plenty of opportunities for good polar bear encounters.
We also talk about some of special locations such as Austfonna. Perhaps surprisingly Andy also discusses the change in people that travel to Svalbard, often purely going to satisfy their desire to see polar bears but coming back from a wildlife expedition cruise as a different person for being re-connected with nature.
Of course, we also talk about photography and what's required to get great images from a small ship Arctic cruise where large icebreakers are not the best way to travel. It is often a location where long lenses are not needed, even for polar bears, as you can meet them eye-to-eye from zodiac excursions from the main ship.
Andy also describes his forthcoming Arctic expedition cruise in 2021 when we again will be sailing with M/S Quest with his favoured team of guides and photographic assistants plus just 46 guests.
If you would like to join Andy then check out his Expeditions page at www.andyrouse.co.uk or see our Quest page.
:
Contact us at: podcasts(at)wildlifewilderness.com
Review our podcasts at Apple Podcasts or on Podchaser: