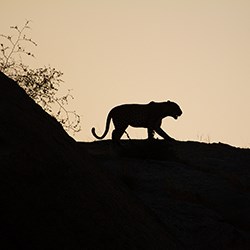 Welcome to the Wildlife & Wilderness Travel & Safaris show, the world's first and only podcast on wildlife safaris worldwide and sustainable tourism to our planet's wild places.
I'm your host, Dr. Steve Banner, biologist and Director of Wildlife & Wilderness, providing high quality holiday experiences to thousands of clients for almost 25 years.
We are passionate about all things in the world of travel in the natural world. Safaris, wildlife travel, wilderness adventures and more. And what better way to bring this to you than a roundup of what is happening around some of the world's great destinations.
We plan this to be a monthly update on exciting wildlife sightings or happenings, how the seasons are changing and life in National Parks and wild places across the world all brought to you directly by our colleagues on the ground in these places. First-hand knowledge and news straight to you from Wildlife & Wilderness.
If you are planning your future travels do check out our website at www.wildlifewilderness.com or contact us via podcasts(at)wildlifewilderness.com
At present we have around 7 guides, lodge owners etc. all people keen to give updates from their own locations in key destinations but given the unusual circumstances with coronavirus some of them cannot make it today, and in any case dependent on seasons not all will be with us all of the time.
First off, we hear from Tyrone of Jeffery & McKeith Safaris on the Kafue, we nicknamed this the Kafue Kronicles!
@ 0:145 Tyrone talks about his safari camps, their location and how they are seeing the wildlife come back to this area in good numbers thanks to their conservation work and anti-poaching measures. Proving that having an African safari camp in the right place really helps wildlife. I know Tyrone is passionate about this area and it really comes across, yet as he points out they still have so much to learn about the elephants, leopards and cheetahs as well as much of the other wildlife. They are in the process of setting up Musekese Camp for the next season which will hopefully be another rewarding year season for them on safari in Zambia.
@08:04 Next up is Jehan who, with his wife Katie, is the owner of Shergarh Tented Camp in Kanha National Park, central India. Jehan talks about his camp, about how coronavirus has affected tourism to the national park and also the livelihoods of those involved and how that may affect the conservation efforts for this park. As tiger safaris are a big draw in India Jehan also talks about those tigers he knows intimately and of events if recent months including fights between two large male tigers over a female. It tells how they are able to keep track of events through social media notes between the guides.
@ 21:25 Finally, for today, Giuliano introduces himself and the Pantanal in Brazil. He is a birding guide and photographer who now owns a lodge in a special area of the Pantanal. Here in his woodland escape he is in lockdown enjoying the surrounding wildlife as he prepares for the coming season. Having only taken on Aymara Lodge last year he talks about the camera traps he has set up to help identify which species are on the property. Coatis were playing outside and macaws flew over just before we started the recording. This is clearly as special area of the Pantanal with giant otters on the river, encounters with tapir and jaguar on the road, ocelots wandering through the lodge day and night and camera traps picking up puma and rarer species such as giant armadillo. They are learning are learning all the time and are looking forward to bringing us future updates on the wildlife of the Pantanal.
We look forward to bringing you further updates from around the world next month.
If you've enjoyed our podcasts so far do subscribe and share with friends interested in wildlife & wilderness.
Contact us at: podcasts(at)wildlifewilderness.com
Review our podcasts at Apple Podcasts or on Podchaser: