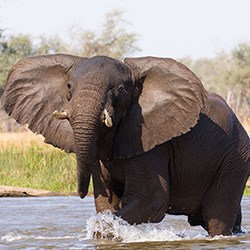 Podcast guide Dr. Steve Banner talks with Nick Aslin, a great character who has an incredible knowledge of safaris in Zambia. Our chat meanders like the Luangwa River, from tales of lions through various fascinating facets of safaris in Zambia, its national parks, conservation, daily safari activities, walking safaris, bird watching and safari styles.
"Zambia offers a very authentic safari experience and always has done. The place still excites me and being on safari, is still to me a tremendously exciting thing."
With 30 years spent in the country Nick has grown from a young professional wildlife guide with Norman Carr, a pioneer and founder of walking safaris in Africa where he worked in South Luangwa National Park to making safaris happen for travellers across the whole of the country through his own operations.
"It's an enormous country and over a third of Zambia's land mass is set aside as protected territory … A typical two-week trip through Zambia... I'd like to start people in South Luangwa, the premier wildlife park in Zambia… for possibly a week split between camps. After, down to the Lower Zambezi… such a different river to the Luangwa… you can boat and canoe on the Zambezi… the populations are quite dense … although less variety … it is more aesthetic, it is a beautiful national park. Two particularly special parks… (then) logically you finish at Victoria Falls."
"Sustainability is important to those involved in Zambian tourism. A lot of what people around the world will pay for being on safari in Zambia will be ploughed back into communities and conservation of those habitats and the animals there."
"Wildlife tourism cannot exist on this planet unless it works hand in hand with the communities nearby."
 On Zambian walking safaris:
"One of the reasons that we have gained a reputation for our walking safaris in Zambia is that our walking safaris are conducted in a rather different way to other places. What is different is that our game viewing is done on foot… to get out and sneak up on big African animals."
"You can track fresh lion spoor for an hour… listening to alarm calls... you know you are on track of lion and eventually you come across them and you find them and see them a couple of hundred metres away under a bush and flicking a tail … and that encounter is infinitely more exciting than driving up on a pride of lions"
"Immediately the bush all around us erupted and every lion just went in a direction away from us, which is their natural behaviour thankfully!"
We also explore Busanga Plains, very much the jewel in the crown of the Kafue and Liuwa Plains in western Zambia as well as the annual bat migration in Kasanka and searching for shoebill stork in Bangweulu.
On bird watching:
"When I lived in the Luangwa, in the national park… me and a few friends, we used to go out and we called it the hundred club, we wouldn't come back for breakfast until we had ticked off a hundred species of birds… we'd do that in a couple of hours!"
On the future of Zambian safari tourism:
"As a country we are doing a good job in protecting our wildlife areas … so I believe we have a strong and good future ahead of us"
Visit our Zambia pages for your next tailor made Zambia safari or contact us by email.
Review our podcasts at Apple Podcasts or on Podchaser: