Wildlife holidays are top of the agenda for many travellers. They evoke a sense of wonder, anticipation and the immense thrill of encounter resulting in the enjoyment of a true connection with nature.

With so many mainstream holiday companies dipping into the wildlife travel arena, how do you choose where to go and who to travel with? At Wildlife & Wilderness, our name says it all. As specialists with over 21 years of experience in arranging travel under the guiding passion of founding Director and biologist, Dr Steve Banner, we aim to put our clients in nature every day.

As wildlife experts and a truly independent specialist company we provide impartial advice and design intelligently, yet creative itineraries to world-class wildlife destinations. With the knowledge to exceed expectations we have enviable repeat custom and are renowned as pure experts in providing top-drawer tailor-made wildlife encounters and immersion in the world's wild places.

For over 10 years we have worked with multi-award winning, professional wildlife photographer, Andy Rouse, to create the highest level of worldwide photo safaris and tours, offering our clients a unique opportunity to travel with, and be inspired by, a true expert at the top of his game.

At Wildlife & Wilderness, we regularly charter the best small ship in Arctic waters for expedition tours around Svalbard, as well as chartering luxury boats in the Galapagos to the best wildlife landing sites. We have sourced fly-in luxury safaris in Africa and Australia, designed extended bear watching trips linking remote lodges on the Pacific Coast of Canada by chartered floatplanes, rooted out the very best lodges for tiger safaris in India and know countries like Costa Rica intimately.

Arrangements made have included short breaks such as a 3-night stay in the Masai Mara, to an extended 40+ day private tour through Africa; whilst our most ambitious itinerary to date was an incredible 65 days exploring Indonesia. Other wildlife holidays have ranged from romantic honeymoons to 16-person extended family safaris with exclusive use of lodges and private game reserves.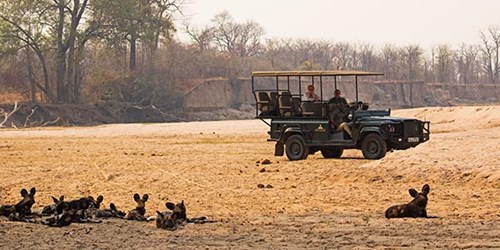 Whatever your interest, be it waking up to the sounds of the African plains where 100-strong herds of elephants still roam, cruising gently in a mokoro in the Okavango Delta in Botswana or heightening your senses on a walking safari in Zambia, listening to the calls of tropical birds and the chatter of macaws in Brazil as you search for jaguars and giant otters; waiting for the bark of chital to indicate the presence of tiger; to bracing against the side of the boat as you seek the flukes of whales in Iceland or Canada; or diving the quieter parts of the Great Barrier Reef; trekking gorillas in Rwanda and observing chimpanzees in their daily routine whilst on safari in Uganda, snorkelling with turtles and penguins in the understated underwater world of the Galapagos Islands, bird watching in Peru from the cloudforests of the Andes to the rainforests of the Amazon; sitting quietly with a mug of coffee watching meerkats or bears, enjoying a gourmet meal with marsupials, seeking out beautiful butterflies or tracking wolves by snowshoe and sleeping cosily under the Northern Lights, you can be sure that we will deliver the perfect balance of experiences wherever you would like to travel.

For further inspiration and to connect with nature please enjoy browsing our website, contact us or give us a call now to discuss your next wildlife adventure.