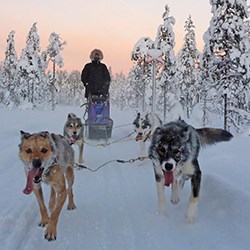 Sanne is half of a young Dutch couple that now lives with their 33 huskies at a lodge in Lapland, northern Sweden. Her love for the dogs came from a single holiday dog sledding and now, during the winter months she runs private dog sled tours from short half day trips to long multi-day expeditions.
She describes how they got started and learnt guiding before setting up their own business 2 years ago. They grew their kennels from 3 huskies to the complement of dogs they have today.
It is a year-round occupation although they dogs seem to enjoy their lazy time in the summer swimming in the lake and enjoying cuddles. Puppies are trained up and as autumn approaches they get into serious training so that when the snows finally arrive they are fit to run 40km or more each day.
As each tour is for private guests, they carefully plan the trips to your abilities with a variety of routes to wilderness cabins. We talk about life around the cabin and the care of the dogs and the atmosphere of evenings spent with friends in the wilderness. Sanne explains her passion for dog sledding and also recounts tales of just how intelligent the dogs are in finding their way. We hear too of her own trips to the high mountains of Sweden trail finding with teams of 10 dogs and camping out in the vast wilderness.
It is clear that she wants to keep the business small and personal offering unique husky dog sled tours to enthusiast clients. We approve of this approach.
Contact us at: podcasts(at)wildlifewilderness.com
Review our podcasts at Apple Podcasts or on Podchaser: