Svalbard Quest
18th July - 28th July 2021
Listen to Andy Rouse talk about wildlife expedition cruising around Svalbard and about M/S Quest in our podcast:
The M/S Quest has a very friendly personality and everyone who sails with her absolutely falls in love with her. Our first charter with her was such a success, we had a different group of clients from what we have on our M/S Stockholm trips and the vibe was great. So much so that we have chartered her again for a special 10 day trip in July 2021.
Alright so let's find out more about the M/S Quest, here are the reasons to come with us on this special Arctic adventure:
1. Expedition Feel - we have no set itinerary. We will go where the weather allows and where we think the greatest chance of great experiences will be. At this time of the year the midnight sun is past it's peak but we will still get almost 24 hour daylight. We will use the light day and night for encounters, so be prepared for a midnight call, as we will always try to utilise the best light when it happens.
2. M/S Quest - this is a brilliant small expedition ship, with comfortable triple, twin and double rooms all with private facilities and outside windows. Think of how Ikea would furnish a hotel and you have a good idea! Access to the zodiacs is totally flat which is great in any weather and they are adept at getting them into the water quickly for us. Food is great and varied, served buffet style in the dining room. There is a superb panoramic lounge for grabbing a coffee and watching the world go by, we also use this lounge for regular talks and our nightly fun photo critiques. You will love the M/S Quest!
3. Svalbard Expedition Guides - On this trip Andy will again be partnering with the best expedition leader in the business Adam Rheborg. He is one of Svalbard's most senior and respected expedition guides. He is partnering with Andy for their 19th trip and together they make one of the best teams in these waters. Adam has great humour, is very safety conscious and lives and breathes the Arctic. All clients that have been with this dynamic duo agree that they can turn a bad day into wonderful photographic opportunities, they are simply the best at what they do. In addition to Adam, we will have the services of another 4 expert Polar Quest guides who will drive the zodiacs and use their own expertise in all situations. And that's not all, you will have two additional photo guides too working for Andy, who's role it will be to help you maximise your picture taking opportunities on the trip including helping you with any processing. All in all it's a great expedition team with unrivalled experience.
4. Andy Rouse - On his 19th trip to Svalbard Andy is one of the world's most experienced wildlife photographers with a real passion for all things Svalbard. Since his early days camping out on the sea ice, he now exclusively uses the M/S Stockholm and M/S Quest for his small ship adventures. He works closely with Adam, working out the best plan for each day and controlling any angles for wildlife encounters. Andy leads these trips from the front and this ensures that you get the best opportunities and also have the skills to make the best of them too. Just check out all the images in this brochure.
5. 10 Day Trip - Our last trip on the M/S Quest was 7 days so this time we have increased this to 10 days so that we can go further and stay longer. This time allows us to really explore Svalbard, to stay with anything great we find or to continue searching for more adventures. This also allows us to wait for decent weather and to ensure that you get the best Svalbard experience possible.
6. Onboard talks - Andy, his photo team and the Polar Quest guiding team will be giving many informal talks on photography, processing and general wildlife. His team will be on hand at all times for any photographic advice and you will always be inspired by his vision and ability to see a great picture. Every night we will have the popular photo critique sessions in the lounge, with a glass in hand!
7. Proven track record - Whilst there are a lot of cool things to see and do on Svalbard we know that you all want to see polar bears. We have an awesome record of finding these amazing apex predators and getting quality encounters with them. We are very very safety conscious around the bears, and all encounters are managed for the safety of all concerned whether two legs or four! Whilst numbers don't really count, our maximum sightings on one trip has been 47 polar bears whilst on our last trip we had over 30 sightings! We know what we are doing!
8. Everything we do is geared to getting you the best images and memories in this special wilderness. Our voyage is one of discovery, we will immerse ourselves in landscape and wildlife just like this...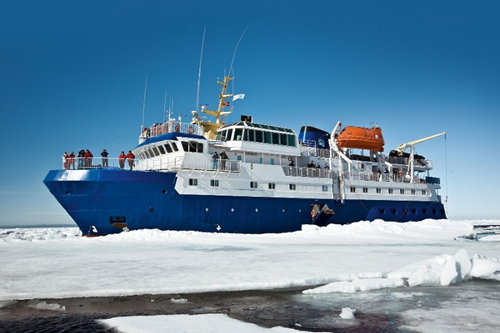 ---

Award Winning Photography
Andy is an inspiring photographer and leader, on his last trip to Svalbard he shot this image which won the Polar Passions award in the Nature's Best International Awards, so you are in good hands!!! Here's that image and some taken this last summer too...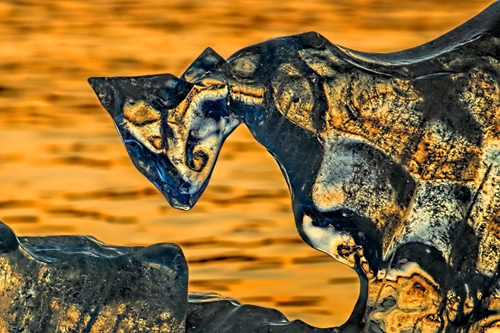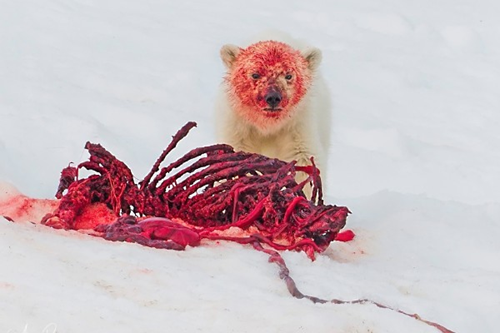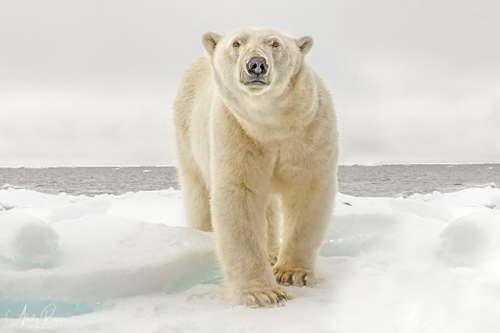 ---

Mid-Summer on Svalbard
Mid Summer on Svalbard is a very pleasant time to be there. Usually the pack ice that surrounds the islands has receded so that circumnavigation is possible if we decide that's what we want to do.
Polar bears, as well as being on the ice will be in front of glaciers and can also be found anywhere on land. At this time of the season we will have good intelligence about any polar bear hotspots too. Walrus are becoming more numerous and we will be able to reach their haul outs much more easily. The bird cliffs too should still be active and packed with tens of thousands Guillemots, although this cannot be guaranteed!
Everywhere else well the land will be pretty clear of snow so landscapes will be mainly confined to the pack ice and sheltered fjords.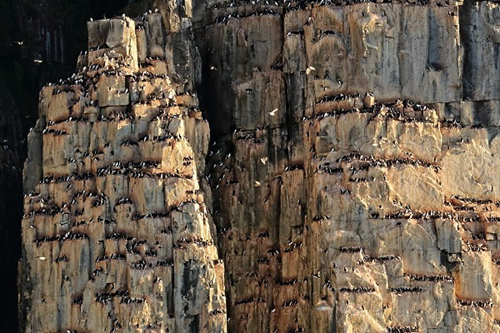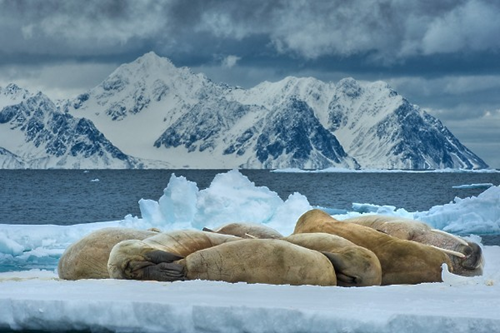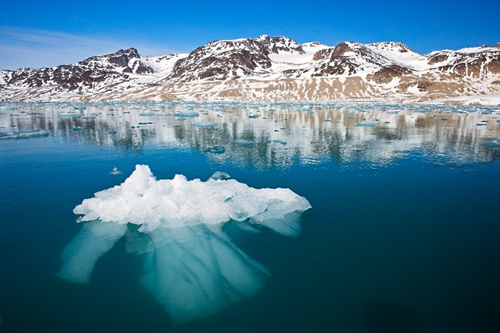 ---
Polar Bears
Polar Bears are simply awesome and we expect to get safely up close and personal to them several times during this trip. The majority of these encounters will be from the decks of the M/S Quest, as the bears will be relaxed with the ship. The relatively low decks for a ship of her size means you will get some cool shots!
If safety permits and the bear is amenable we will also try to launch the Zodiacs too so that you can get a lower angle experience. We are dedicated to giving you the safest and coolest polar bear experience that we can. Of course we cannot guarantee it but we are the best at it and many of you know that. Here are some images taken from both the decks of the Quest and zodiacs launched from the Quest.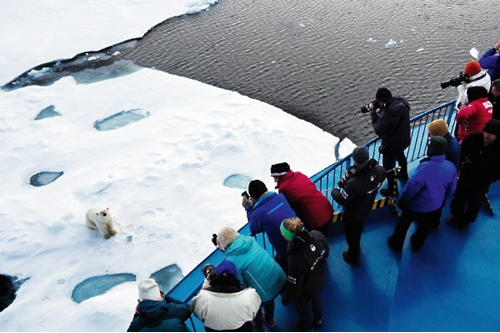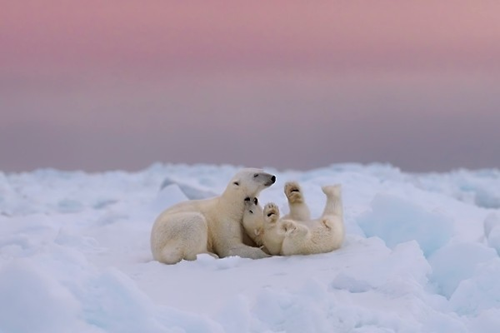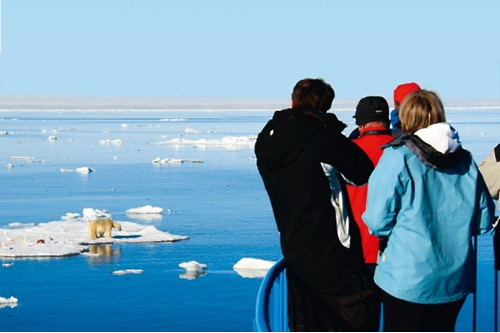 ---
Our Expedition Ship - M/S Quest
The ship was built in Denmark in 1992 to serve as a ferry on Greenland's west coast. In 2004/2005 she was completely refurbished into a comfortable expedition ship and in 2018 she underwent a renovation of the passenger areas. It has one of the highest crew to passenger ratios in Svalbard.
On our expedition M/S Quest will take 46 passengers and all 26 cabins are outside cabins with private facilities. The triple cabins have upper and lower berths. All other cabins have two lower berths or a double bed. In your cabin you find a desk with a chair and a cupboard for storage. The superior cabins are spacious and have armchairs and TV. The owner's cabin has a double bed, two large picture windows, a separate seating area and TV.
We have chosen this ship for the following reasons:
1) Small number of passengers which cuts down dis-embarkation time and allows us to give a more personal service
2) Level and flat access onto Zodiacs via the rear door, this means no difficult climbing up and down a bouncing ladder. On our Svalbard expeditions this is a great bonus for all. In rough seas the Captain will orientate the ship to give maximum protection, in the view of our experienced expedition crew this is the best solution to Zodiac disembarkation in the polar regions. The crew are also incredibly quick at getting zodiacs in the water, this is very important to allow us to react to any situation that arises.
3) Very friendly crew and high crew / passenger ratio
4) Glass-enclosed observation lounge and presentation room, a wonderful panorama onto the world outside
5) Simple cabin configuration over two decks with triples and twin / double cabins too.
6) Fast 12 knot speed
7) In the dining room you are treated to delicious meals in between landings in a buffet style
8) Spacious observation decks and 24 hour access to the bridge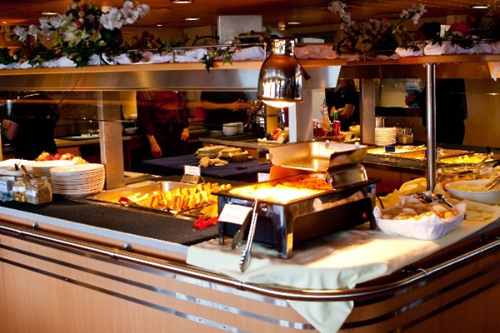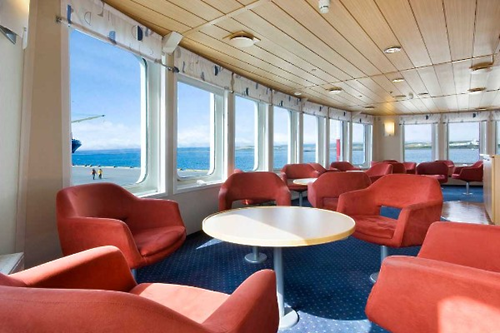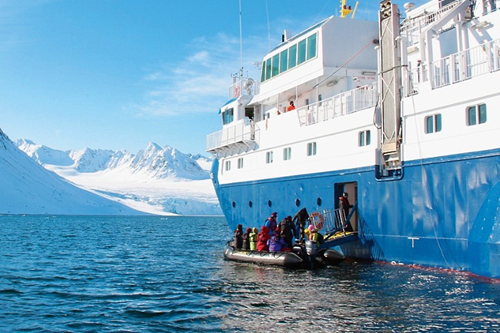 ---
Accommodation
All guests aboard Quest are accommodated in comfortable outside cabins. All cabins feature a picture window, under bed storage, individually controlled heating system and a private bathroom with shower. They have great storage and have none of this silliness about sharing bathrooms, every cabin has their own bathroom. They provide comfortable and practical accommodation in a very Scandinavian style. The Quest is very compact and everyone is accommodated in very similar cabins, the only real difference is the space and the bed configuration: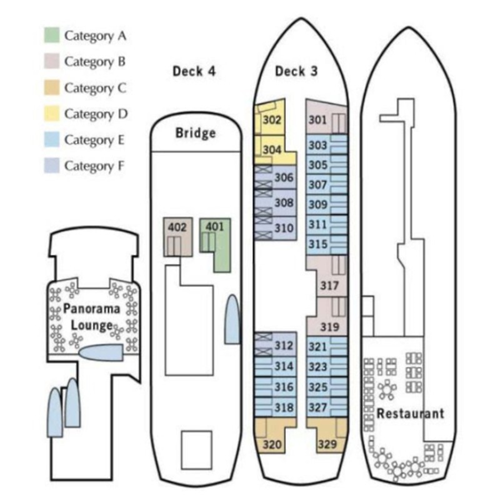 Owners Cabin 401
The best cabin on the ship, the Owners Cabin. On the Bridge Deck this is a double-bedded cabin with 2 windows. It also has 2 medium sized wardrobes, a writing table, chair, TV, DVD, minibar, hair dryer, slippers and bathrobes.
10.8m2
Price £8650
Double Superior 402
Slightly smaller than the Owners Cabin but next to it on the Bridge Deck, this Double Superior cabin also has a double bed and 2 windows. Its furnishings include a single wardrobe, table, TV, DVD and hairdryer. Slippers and bathrobes are also provided.
10.0m2
Price £7995

Double Superior 301
A larger cabin than the Bridge Deck Double Superior but with no opening window. It has a double bed, 1 large wardrobe, writing table, TV, DVD, hairdryer and independent temperature control. Slippers and bathrobes are also provided.
15.8m2
Price £7995
Double Superior 317 / 319
A larger cabin than the Bridge Deck Double Superior and midships on Deck 3 with 2 opening windows. The cabin has a double bed, 1 large wardrobe, writing table, TV, DVD, hairdryer and independent temperature control. Slippers and bathrobes are also provided.
12.6m2
Price £8650
Double Cabins 320 / 329
These cabins have a narrower double bed that the Owners and Double Superior cabins. The cabin is furnished with a large wardrobe, table and hairdryer. There is 1 large window.
8.6m2
Price £7650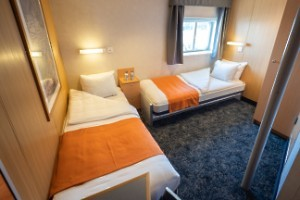 Twin Plus 302 / 304
These 2 cabins forward on the ship have L-shape bed configurations with one solid bed and one bed that converts to a sofa. They are furnished with 2 single wardrobes, table and hairdryer.
10m2
Price £7650
Twins - see below
The most numerous cabin type on board these cabins have 2 separate beds, one a fold-down Pullman and one that converts to a sofa. There is a single wardrobe, table and hairdryer and they are en suite with shower, basin and toilet.
8.8 – 9.2m2
Price £6950

Twin cabin 312
This is the same as a Twin cabin except that it was originally a triple so has the same configuration as a triple cabin shown next. So it's a bigger room for two!
10.8m2
Price £6950
Triple 306 / 310
These 2 cabins are the most economic on board and are best suited to single travellers. There are 2 bunk beds of which 3 of the beds are folding Pullman type and the remaining lower, converts to a sofa. The upper bunk is accessed by a removable ladder. There is a single wardrobe, table and hairdryer. The en suite bathroom has a shower, basin and toilet.
10 - 11m2
Price £5995
Twin Cabins are 303, 305, 307, 309, 311, 316, 318, 323, 325 & 327
Please note all image pictures show approximate cabin types as there is variation between each cabin.
Single Occupancy - There are no single cabins onboard so if you want single occupancy then it will be double the quoted rate.
So check out which cabin you want and let us know!
---
Single Travellers
If you are a single traveller then why not consider one of the triples? We generally have one male and one female allocated and they provide great value for money with enough space for everyone.
If you want to share one of the Twin cabins then don't worry we will allocate you a same sex room mate who we think will be a good match. Many of you have travelled with us previously and you know that we go to great lengths to ensure that your room mate and you will get on. In truth you won't be spending much time in the rooms as the panoramic lounge is such a great place to be!!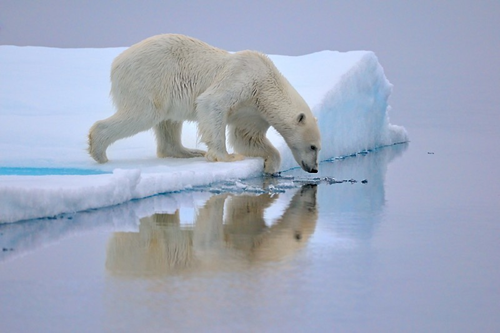 ---
Experienced Photo Team
We have a great photo training team onboard.
One is a professional for the British Armed Forces, a talented wildlife photographer but expert at video too and all aspects of teaching photography.
The second is used to teaching photography at degree level and is a very good wildlife photographer.
Through on board courses, workshops, projects and critiques we will improve your photography and video making, with simple to follow techniques. They will also be helping you onshore at all times and leading the photo zodiacs too.
Andy's experience in Svalbard is extensive and he leads from the front. He has won multiple awards for his photography over his glittering 21 year career, spoken at major events worldwide and is dedicated to Arctic conservation.
 Experienced Expedition Team
Any expedition depends on a great team and we are delighted to announce that we have two of the best leaders in the business.
Adam Rheborg - Adam and Andy have worked together for many years as the dynamic duo on his Svalbard adventures. Adam is a superb expedition leader, popular with guests, a great photographer and knowledgeable guide. His humour will bring a great bonus to this expedition, where he will work alongside Andy and our expedition leaders.
In addition the superb expedition naturalists and historians will bring this wonderful region to life for you, plus there will be an additional 4 Polar Quest guides.
---
Zodiac Cruising
We have 5 zodiacs on board each crewed by an expert Polar Quest guide. Three of the Zodiacs will be led by one of the photographer team. Every one will rotate as appropriate. Our Zodiac cruising will primarily be in sheltered fjords and bays, looking at jaw dropping icebergs and scenery. But occasionally we might just find something interesting like we did on the last Quest trip as you see here...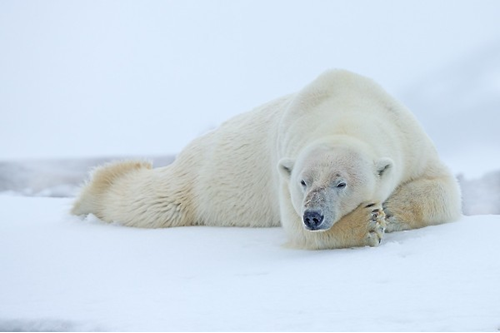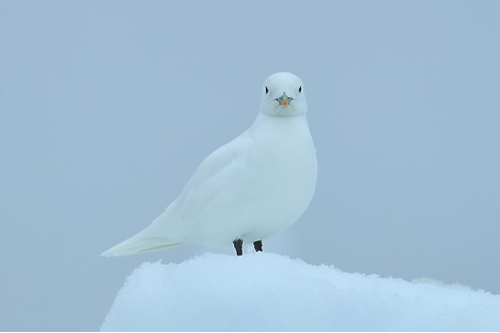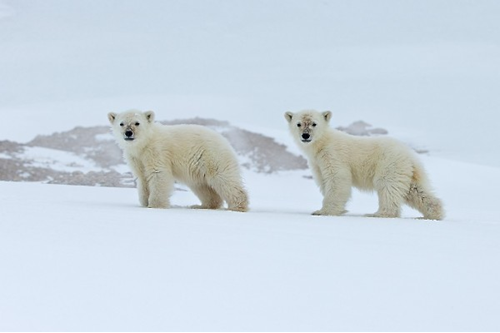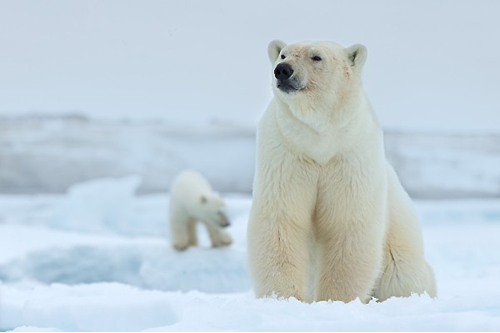 ---
The Weather
The weather in this region is changeable, that is the best way of describing it! It can be as low as -5C in the sea ice if the wind picks up and you should expect no warmer than 5C. The wind chill on deck can be significant so you will need to be prepared.
Sea conditions are impossible to predict. It can be calm or it can be rough, that's the honest truth. Most people get caught out on the first night so we will give you plenty of warning. We will take shelter when and if we need to. In the ice, the water is generally flat with little swell. If you suffer from seasickness you will need to be prepared for this and take appropriate medication. Remember this is an expedition to a remote part of the world. Quest is a very good ship in rough seas but you need to be prepared just in case!
Andy will send out a full briefing document well before the trip, detailing everything that you need to know.
---
Branded Clothing
It is standard now for all our trips that we give every client some special branded clothing to use during the trip and as a memory afterwards. Each trip has it's own type of clothing and we will certainly be doing some cool stuff for this trip. Stay tuned!!!
---
Physical Fitness
It's up to you to decide your physical fitness for this cruise and be honest with yourself and us. The ship does have stairways between the accommodation decks and the gangway / restaurant / observation lounge but these are wide and easy to climb. There are no lifts on board. Access to zodiacs is via a flat gangway connected to the stairwell.
There is a doctor on board. But since we will be cruising in a very remote area it is essential that you advise us before booking of any pre-existing medical condition that requires regular medication. This will be treated in confidence and assessed by our qualified medical team before accepting your booking.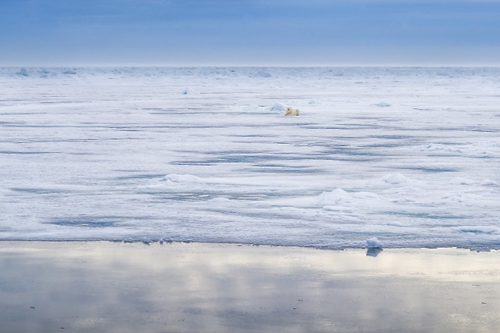 ---
Wildlife & Wilderness
Andy has worked with our Director Steve Banner for many years on all of our Svalbard and Galapagos ship charters. For our Svalbard adventure in 2021 Steve will handle all bookings, room allocations, payments and everything travel connected with the trip to provide you with a hassle free experience. Wildlife and Wilderness is ATOL licensed, ATOL 6330, and as such your holiday is completely protected.
---
Price and Booking
The prices quoted are very competitive for the level of ship and itinerary. There are cheaper options of course, in terms of ship and length of trip, but we feel that the combination of the ship, itinerary and all the inclusions makes this a very fair price for what you get.
Included
10 night photographic voyage through the Svalbard archipelago on the M/S Quest ice strengthened vessel on a full board basis plus the services of Andy Rouse and Adam Rheborg as your expedition leaders.

Excluded
Visa (not required by British nationals), insurance, medication, International flights - see below, all baggage transfers to and from the ship and airport transfers (will be included with flight cost), any additional accommodation in Oslo or Longyearbyen if required, meals other than stated above, items of personal expenditure, tips, any statutory increases beyond our control and any fuel surcharges not yet expected for the ship.

International Flights
Once schedules are published we will be in touch about our flight options from London Heathrow to Longyearbyen. Of course we understand that many of you will travel from outside the UK and Steve will be able to help you with any connections. It maybe that we need a night's accommodation in Longyearbyen, this will be an additional cost and will be advised but we will try to avoid this.

Deposit and Insurance
The deposit that we require for the trip is £2000 per person. The balance will then be payable in two identical payments approximately 1 year before and 6 months before our departure. Once booked however please note that any monies paid are totally non-refundable under any circumstances. Therefore we advise you to take out adequate insurance to cover the trip should something unforeseen happen.
Please see our terms and conditions for the trip, a full set of terms and conditions will be sent by Wildlife & Wilderness.
Booking your place
To book your place please click here to send an email to Andy, he will then pass your details onto us for the registration process.
---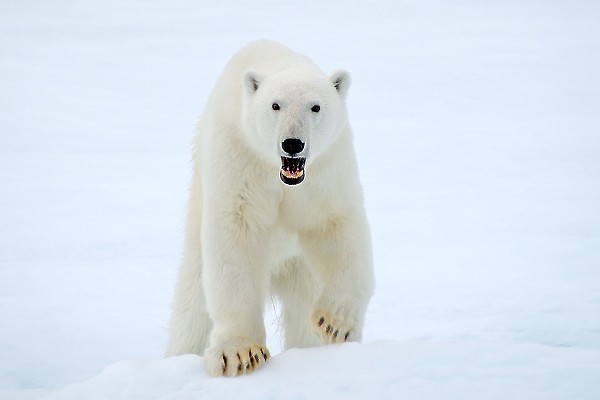 ---
Terms and Conditions
Everyone has their terms and conditions, here are ours. This is an abbreviated set, a comprehensive set will be sent out on booking.
Your deposit of £2000 and any subsequent payments are totally non-refundable under any circumstances. Similarly once you have paid your final balance the total amount is non-refundable . By booking on this tour you agree to these conditions.
In any dispute the decision of Andy Rouse Wildlife Photography Ltd and Wildlife & Wilderness will be final and no discussion will be entered into.
Prices are quoted on current rates from our ground agents and we reserve the right to apply a surcharge should an unexpected local rate increase occur including statutory increases beyond our control. We will of course try to avoid this at all costs. By committing to the trip and paying the deposit you agree to this surcharge if it is necessary, if you decide not to pay it and pull out then you will not be entitled to any refund.
All materials and photographs on this page are the copyright of Andy Rouse Wildlife Photography Ltd and this may not be printed or distributed in anyway without prior written consent from Andy Rouse or his representatives.
In order to cover yourself for an unfortunate change of personal circumstance or an unforeseen medical condition we strongly suggest that you take out sufficient travel insurance to cover this eventuality. In our experience this is vital.
Svalbard is a wilderness area and changes to itinerary may be necessary due to weather or unforeseen conditions. At all times Andy Rouse and your crew will have your safety as their main concern and will make alternative arrangements should the need arise.
You are responsible for your own personal medication and it is essential that you bring extra supplies with you. If you have a condition that may require medical intervention then this trip is not one for you as we are a long way from any kind of medical facility.